Abortion Will Be Outlawed in Purple States Too
Josh Marshall
The only mild saving grace to today's SCOTUS arguments is that the pretenses are removed. These are ideologues and politicians. Their entire political movement has been propelled by the goal of overturning Roe v Wade and outlawing abortion. The conservative legal movement which birthed and swirls around The Federalist Society has many legal fish to fry. But its political potency, the engine that transformed the federal judiciary and made it more than a genteel debating society, was abortion. Of course they're going to overturn Roe. It's good to have that be crystal clear to anyone who wasn't paying attention.
It's a corrupt Court. It's good to understand that.
Read More
| Cafe
This article was first published in 2015.
The future composition of the Supreme Court is the most important civil rights cause of our time. It is more important than racial justice, marriage equality, voting rights, money in politics, abortion rights, gun rights, or managing climate change. It matters more because the ability to move forward in these other civil rights struggles depends first and foremost upon control of the Court. And control for the next generation is about to be up for grabs, likely in the next presidential election, a point many on the right but few on the left seem to have recognized.
Read More
| Prime
Russia has spent the past seven years threatening to stage another invasion of Ukraine.
This time, though, the fears may be real.
Read More
| News
A new report from the Bureau of Labor Statistics showing that prices rose in October and are hovering at a notably high point has triggered a full-on Democratic panic attack over the fate of the reconciliation bill.
Read More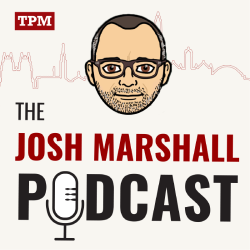 Ep. 200: Murder Safaris
Josh and Kate discuss the trials of two high-profile shootings and how they contribute to Democrat
MEMBER EXCLUSIVES
PRIMEWIRE