The Road to the Stolen 2024 Election
Josh Marshall
I've been gratified to see that the threat to the 2024 election and really all elections that come after it is beginning to seep into the mainstream or prestige political dialog. You may have seen Robert Kagan's essay in the Post or this one in Politico or other pieces that have appeared in the last week or more. These don't tell us a lot that we don't know. But especially pieces like Kagan's place the critical conversation in one of those prestige venues that exist outside the limits of "both sides" analysis. Maybe the foundations of our democracy are under active threat and we see it all happening right in front of us. Maybe it's not a general issue. Maybe it's the radicalization of one political party increasingly taking aim at the foundational rules and agreements that make civic life possible in this country.
I thought it was worth laying out just what we're talking about in specific terms. The general problem is that a radicalized GOP simply no longer accepts the idea that elections apply to them. Or rather, elections they don't win can't be legitimate, by definition.
But there are specific paths that get you to acting on that belief. So let's discuss them.
Read More
| News
There's apparently a phony copy of the final report from the sham Arizona "audit" floating around that advises lawmakers not to certify the 2020 election.
Read More
| Muckraker
The House select committee investigating the Capitol insurrection has issued its first batch of subpoenas, homing in on further unearthing the White House's role in the Jan. 6 attack on Congress.
The panel released the witness subpoenas last night, demanding documents from and interviews with Steve Bannon, Mark Meadows, Kash Patel, and Dan Scavino.
Read More
| News
As legislative efforts to expand voting rights hit the brick wall of the filibuster in the Senate, and as conservative courts across the country side with state Republicans' novel restrictions on the franchise, the third branch of government is preparing to fill in the gaps where it can. And for members of Joe Biden's Cabinet, homework is due.
Read More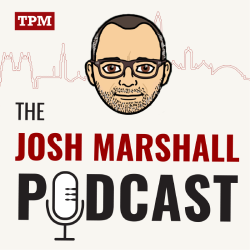 Ep. 191: Big Tent Wrangling
Josh and Kate discuss the debt ceiling, impending government shutdown and fate of the two-track infrastructure plan as Democrats try to get their house in o
MEMBER EXCLUSIVES
PRIMEWIRE